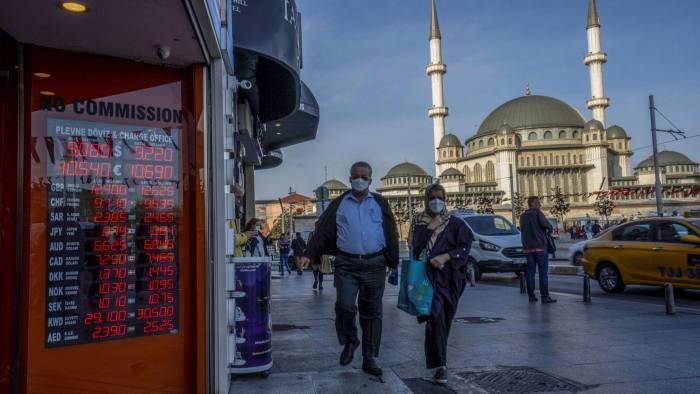 Please use the sharing tools found via the share button at the top or side of articles. Copying articles to share with others is a breach of FT.com T&Cs and Copyright Policy. Email [email protected] to buy additional rights. Subscribers may share up to 10 or 20 articles per month using the gift article service. More information can be found here.
https://www.ft.com/content/0fe6b27e-4e10-4210-8470-a0143ad52e95
Central bank independence is "essential" for Turkey's long-term growth and development, the country's largest and most powerful business association said, ahead of a critical interest rate decision by the embattled central bank this week. The Turkish Industry and Business Association (Tusiad), in a 230-page report, called for fundamental reform of economic policymaking amid growing concerns about the economy's health under President Recep Tayyip Erdogan. In a thinly veiled critique of Erdogan's fixation on high economic growth at all costs, including soaring inflation and financial instability, Tusiad said long-term trends such as "central bank independence and cautious monetary and fiscal policy" were more important for lasting prosperity. It added that, while a narrative about a fast-paced growth "occupies an important role" in public discourse, "the most important, fundamental thing for the country's prosperity is not short-term developments but the long-term trajectory". The group's unusual critique comes amid growing worries in Turkish business circles over the slide in the lira, which has continued to plumb new lows: this year the currency has fallen by a fifth. The country's nominally independent central bank, which has come under continued pressure from Erdogan to keep rates low despite high inflation, is expected to cut rates again when it meets on Thursday. Last month the bank slashed its benchmark interest rate to 18 per cent even as annual inflation rose to more than 19 per cent. Tusiad rarely criticises government policy — a stance that has frustrated the country's opposition parties. Founded in 1971, it represents 4,500 companies and its members generate 85 per cent of Turkey's total foreign trade, according to the association's website. While its report made no direct mention of Erdogan or his Justice and Development party, which has governed Turkey for the past 20 years, the intervention will be seen as an attack on the president and his increasingly erratic management of the country's $765bn economy. The report said that, after witnessing improvements in the 2000s at a time when Turkey was working towards EU membership, indicators on rule of law, accountability and political stability had gone backwards. It obliquely criticised the government's polarising rhetoric, calling for an approach to solving problems "from the perspective of 'all of us' rather than 'us and them'". As well as urging for reform of the institutions and laws, it called for a fundamental overhaul of education. The Tusiad report comes just days after Omer Koc, one of Turkey's top business tycoons, made a rare public intervention to warn of the damage being done by the country's "exhausting" inflation and spiralling exchange rate. The same day, Turkey's main opposition leader Kemal Kilicdaroglu visited central bank governor Sahap Kavcioglu to express concern about political interference in the bank. Kilicdaroglu, who over the weekend warned public servants that the opposition would hold them to account for their decisions if they won the next election, said the slide in the lira was harming the country's businesses and its citizens. "I am clearly and openly calling on Erdogan from here: please respect the central bank's institutional identity," he said after their meeting.